Baylan is one of the most precious names when it comes to the history of patisseries in Istanbul. It is a European style patisserie founded back in 1923 by Filip Lenas, a young man who immigrated from Albania to Istanbul. The word "baylan" means "perfect, flawless" in Çağatay dialect of Turkish. Baylan's mission today suits very well to the meaning of its name, as the Chef Executive of Baylan Bebek Tim Briggs says, "they always aim for perfection".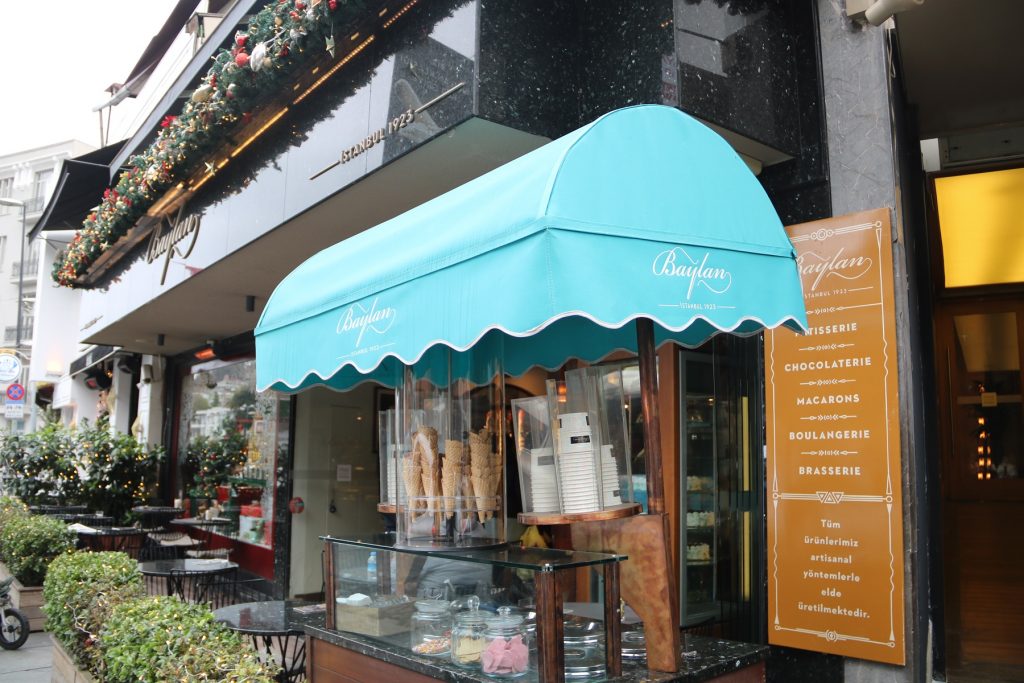 Chef Tim Briggs has been the Chef Executive of Baylan Bebek since 2011. He came from Paris where he was working as Chef Consultant and Cooking Teacher for French Chef Alain Ducasse. He came to Istanbul for the first time in 2008 to give a seminar at the Istanbul Culinary Institute. He worked with Alain Ducasse for nearly 6 years and travelled with him to different places in the world like Brazil and Philippines. Afterwards, in 2011 they got the mission to recreate "Baylan Bebek" as a nice restaurant in addition to a patisserie. In 2011 they started coming to Istanbul on a regular basis and created the project together with Alain Ducasse. They helped with everything from the design and tableware, to the menu and training of the staff.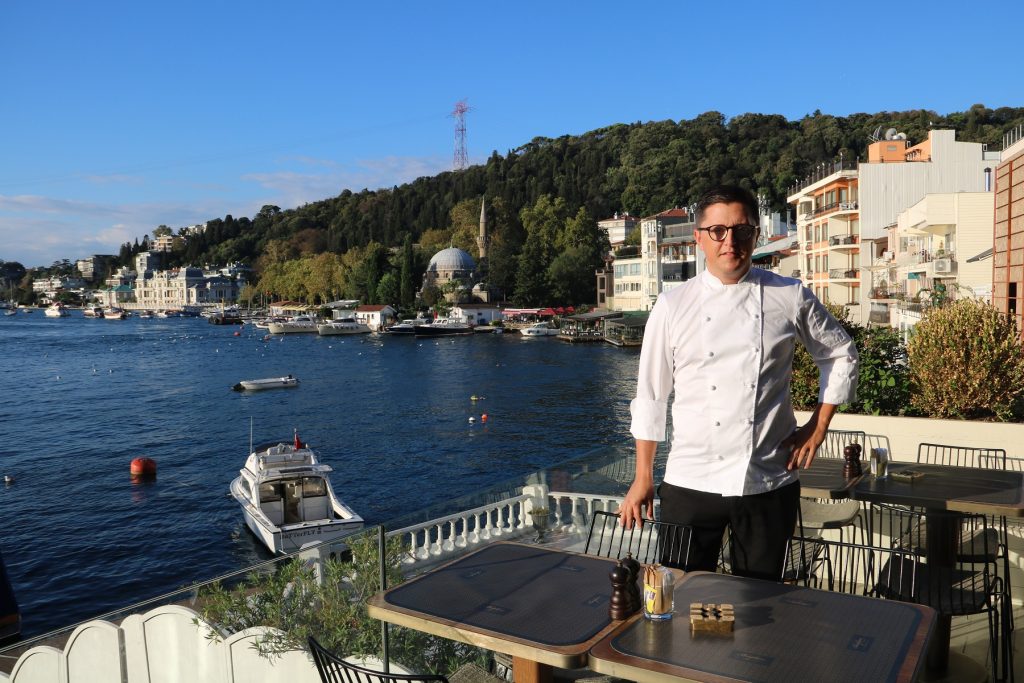 At the end of 2011, Chef Tim Briggs became the Chef Executive of Baylan Bebek and moved to Istanbul. He became the leader of carrying this special place to the future by making it even more magical. At the same time both respecting its history, legacy and classical tastes and also continuing its mission to bring novelty to people's lives and mixing cultures… Chef Tim Briggs says that it was exciting and challenging "to get people to think of Baylan as somewhere to eat, drink and have a nice time, in addition to its patisserie image." He explains as follows: "We came here to offer something different to our guests, serve Turkish tastes in a different way, cook with different techniques. The most important thing for me is that when they go out of the door everyone remembers something good. In a very nice, quiet, relaxed atmosphere, they eat our food to enjoy the food, with a glass of wine. Our job is to make people happy."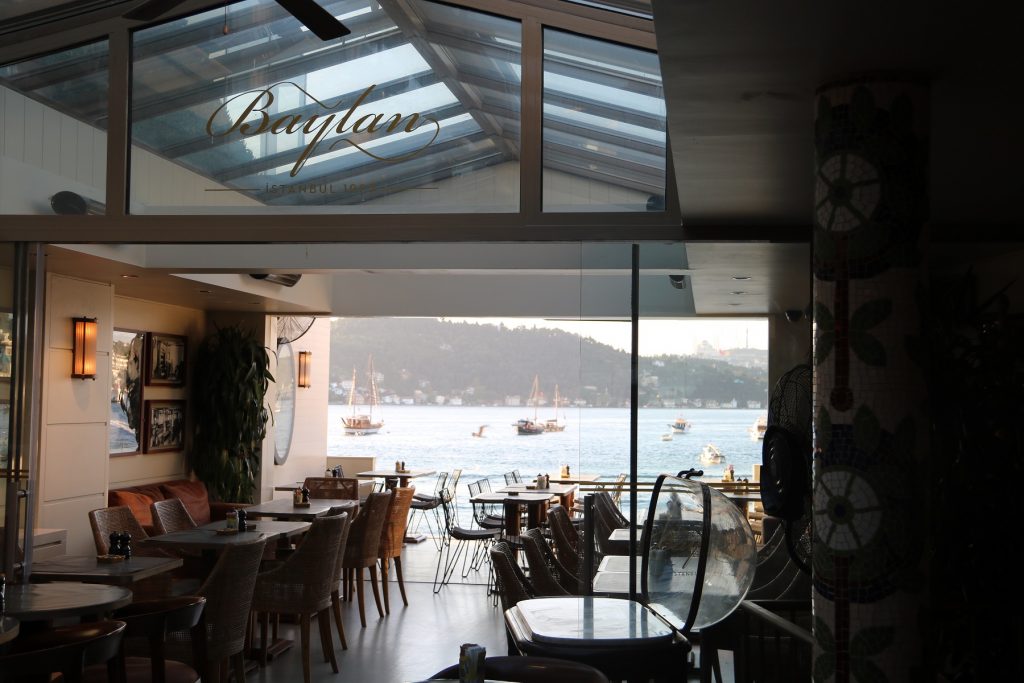 There are currently two Baylans in Istanbul, one in Kadıköy and one in Bebek. Bebek, which means "baby" in Turkish, is a beautiful and popular district by the Bosphorus. Baylan Bebek is consisted of four sections with different styles. "The down floor is a restaurant with good food, good service and good ambiance.The middle floor is like a modern European style cafe, salon de thé and the upper floor has more like a daytime kind of bar ambiance where people can have a nice drink and relax before having dinner. And we also have a front shop" says Chef Tim Briggs. He says he likes Bebek a lot: "I think Bebek is such a special kind of place. I don't think there really is another place like this in the world."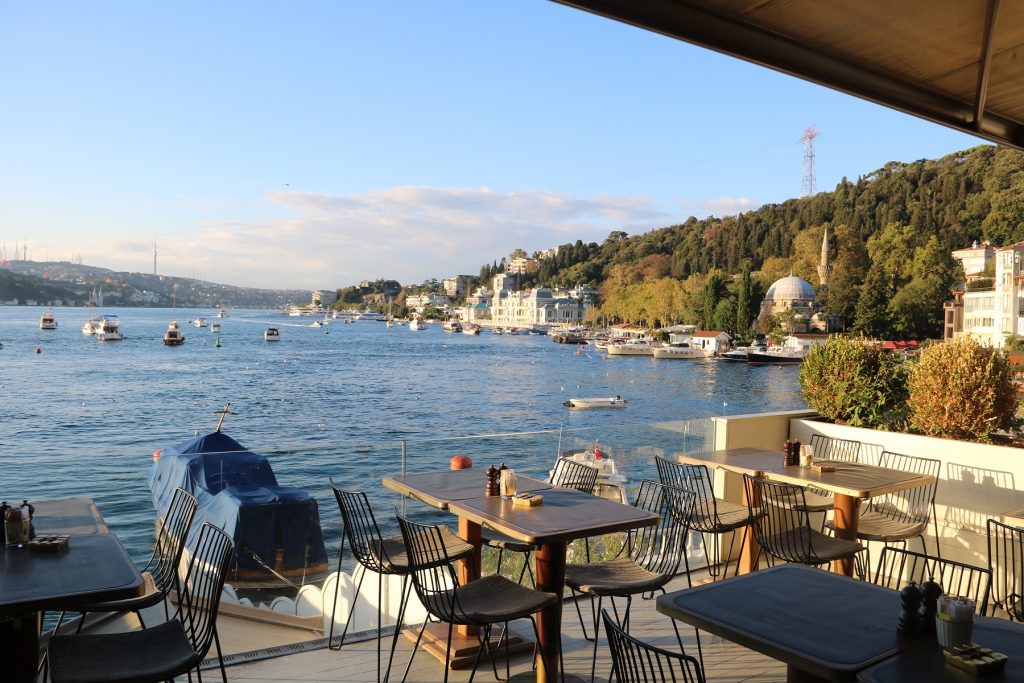 Baylan's foundation dates back to 1923, the year when the modern Turkish Republic was founded. As a European style patisserie, it introduced European tastes and patisserie culture to people in Istanbul. It is not the first patisserie of Istanbul but actually is the oldest patisserie in the city which succeeded to stay open to this day. First it was founded in Beyoğlu with the name "Loryan" and then got the Turkish name "Baylan" in 1934. Baylan Beyoğlu stayed open until 1967 and in the 50's and 60's it was an important meeting point for many famous writers and poets such as Atilla İlhan, Behçet Necatigil, Haldun Taner, Orhan Kemal, Fazıl Hüsnü Dağlarca, Sait Faik Abasıyanık, Cemal Süreya and Peyami Safa. They used to meet in Baylan, read their poems, stories and discuss on new ideas and world views. Of course they also enjoyed delicious cakes, mille feuilles, coffees and teas.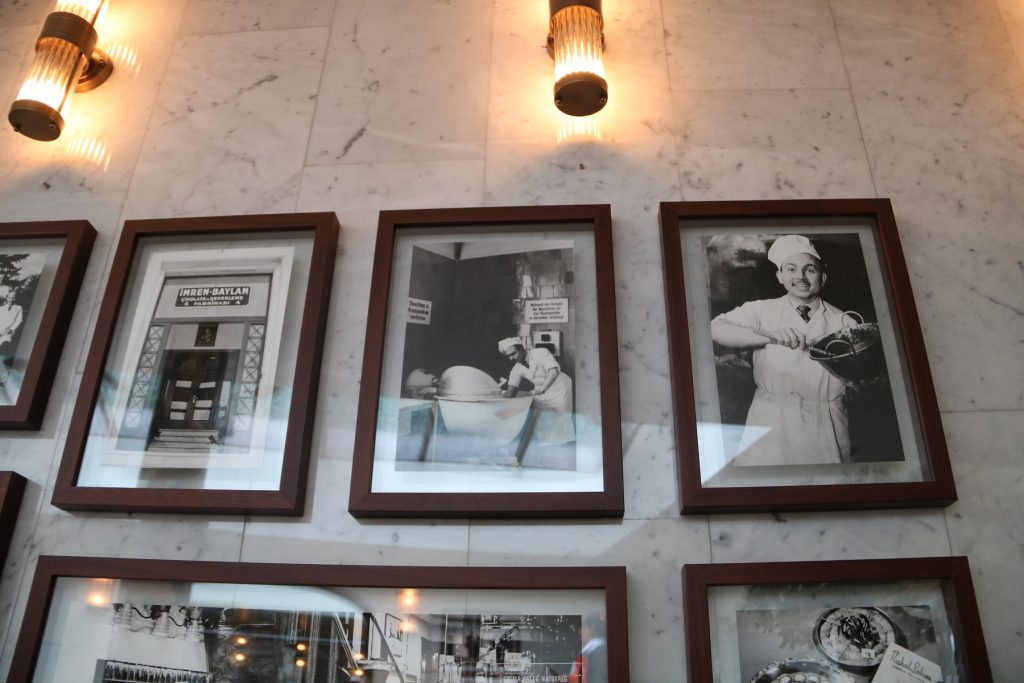 Filip Lenas' son Harry Lenas learned the job in Beyoğlu Baylan and sharing his father's passion went to Europe in the 50's to get education on European style patisserie and chocolate making. When he returned to Istanbul as the first "academician pastry cook" of Turkey, he brought many novelties with him. In the 50's, he was the first to introduce espresso and cappuccino to Istanbul, make the first real cheese toast, Italian style ice cream and milkshake. Istanbul people tasted many Europen style desserts and cakes for the first time thanks to him. Baylan's famous "Kup Griye" is also his invention. It is made with two flavors of ice cream, caramel sauce, honey and grilled almonds. The dessert got its name from the word "grillé" which means grilled in French.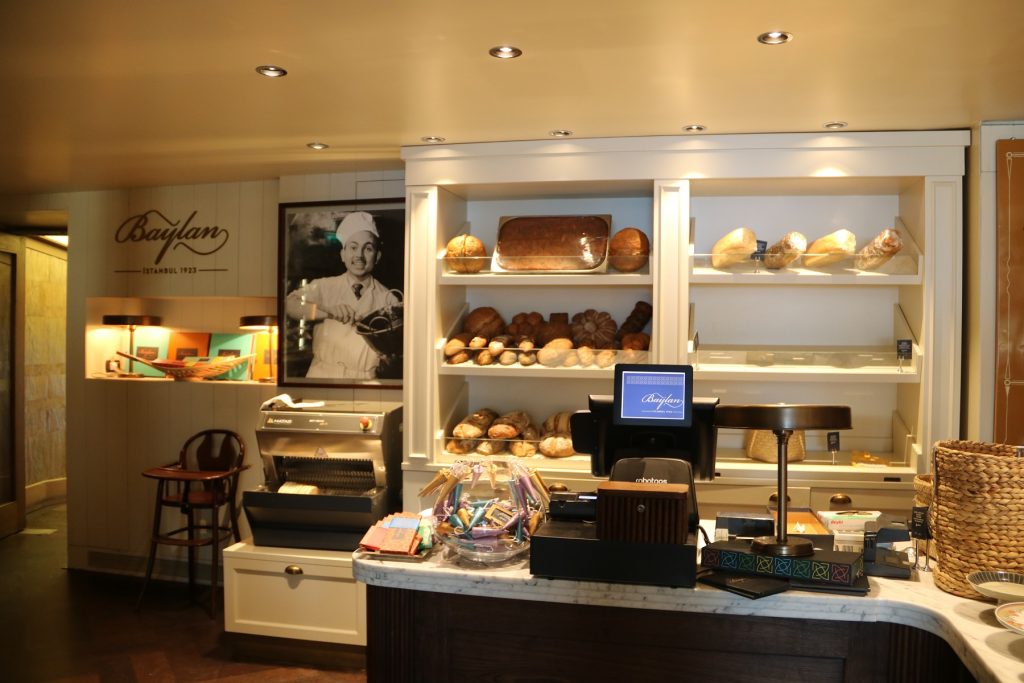 As a French Chef, Tim Briggs continues following Filip and Harry Lenas' footsteps, and as the representative of their legacy, bringing cultures together and offering people new delicious tastes to try. Baylan is owned by Altınmarka since 2009 and thanks to their support, Baylan Bebek was opened in 2010 and started a new exciting and impressive journey with the leadership of Chef Tim Briggs.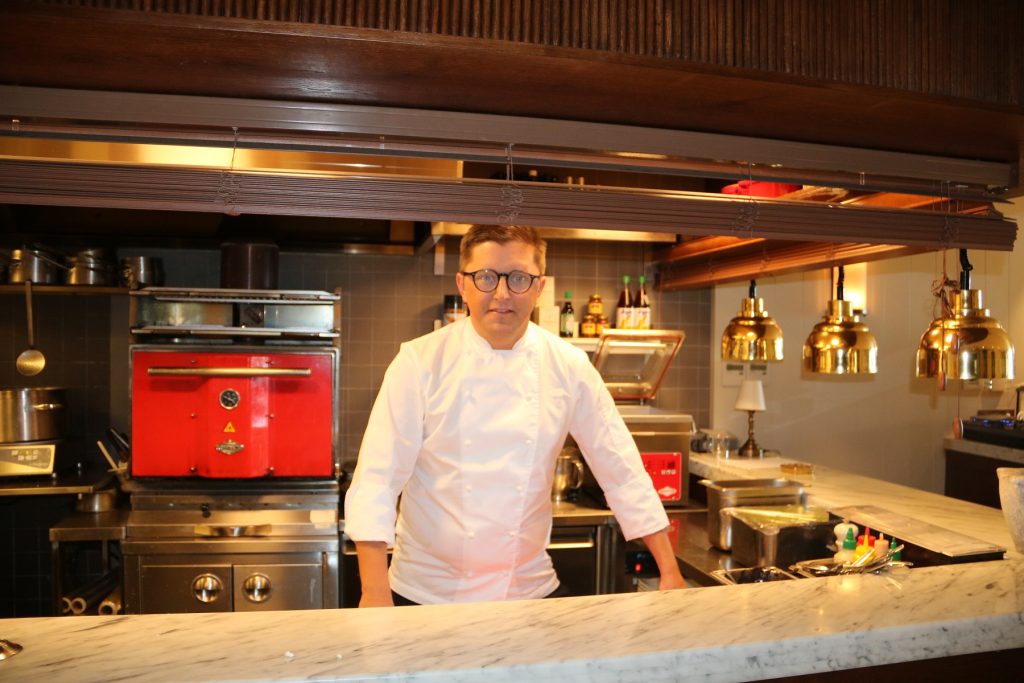 He says that he is proud of working for Baylan: "The name Baylan is very special in Istanbul. I think back in those years and still today, it is a very difficult job to keep something open. The most important thing is to keep the same standards. To keep on tasting, finding new ideas, new tastes. Everybody's happy with what we are doing here. As a chef, it makes me happy when people share their memories about Baylan with me. Baylan is really a very famous place. People telling stories about Baylan in the 40's, 50's, 60's, in a sunny afternoon, when they used to dress up, like men wearing ties and the ladies in big dresses to go and eat desserts. This is what is magical… Because you don't get this anymore and I don't think you will ever get it from another brand. Baylan has been small, boutique, artisanal. So people remember it."
They are trying to make a mix of Turkish and European culture. An examle from Baylan's menu to this mix of cultures is, CroqueIst. It is a croque monsieur with a Turkish touch. Chef Tim Briggs explains as follows: "Croque monsieur is a typical kind of French afternoon snack and we make it with a little twist of Turkish touch. Normally of course it is with bacon inside. Turkish people like "eski kaşar" and "pastırma" a lot. We did it the same way as we do a croque monsieur, with these two products."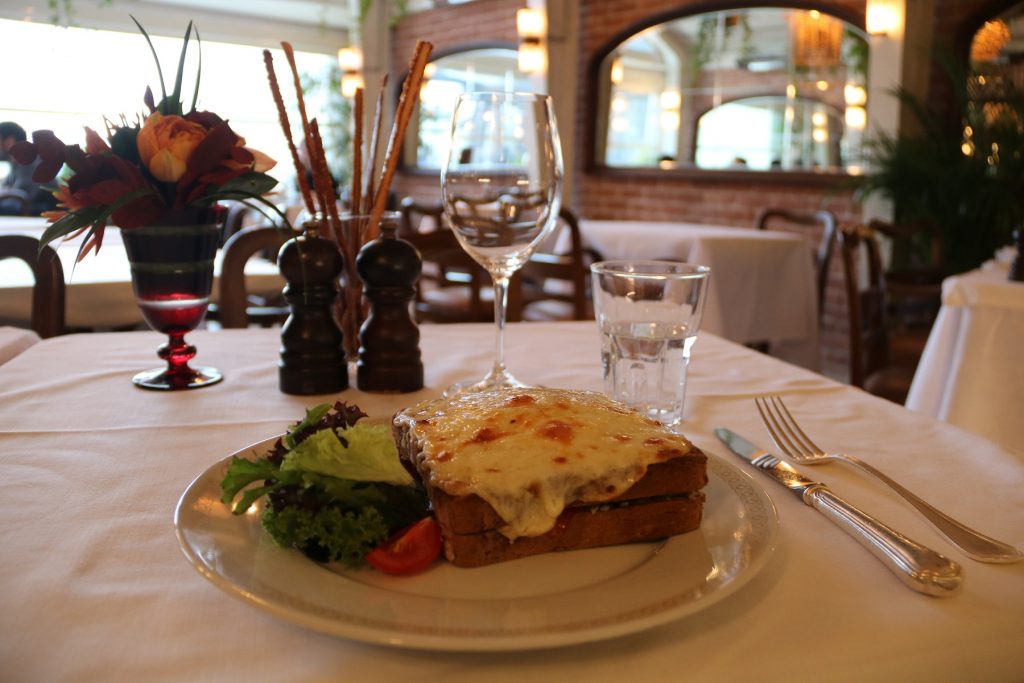 In Baylan, they make chocolates, macarons, bread, croissant,sauces, everything by themselves and buy nothing ready. "We have mille feuille, éclair, profiterole, macaron…They are very European kind of, French based desserts. I think, eventhough in Istanbul you can get mille feuille or macarons, ours are a little bit different, better quality" he says.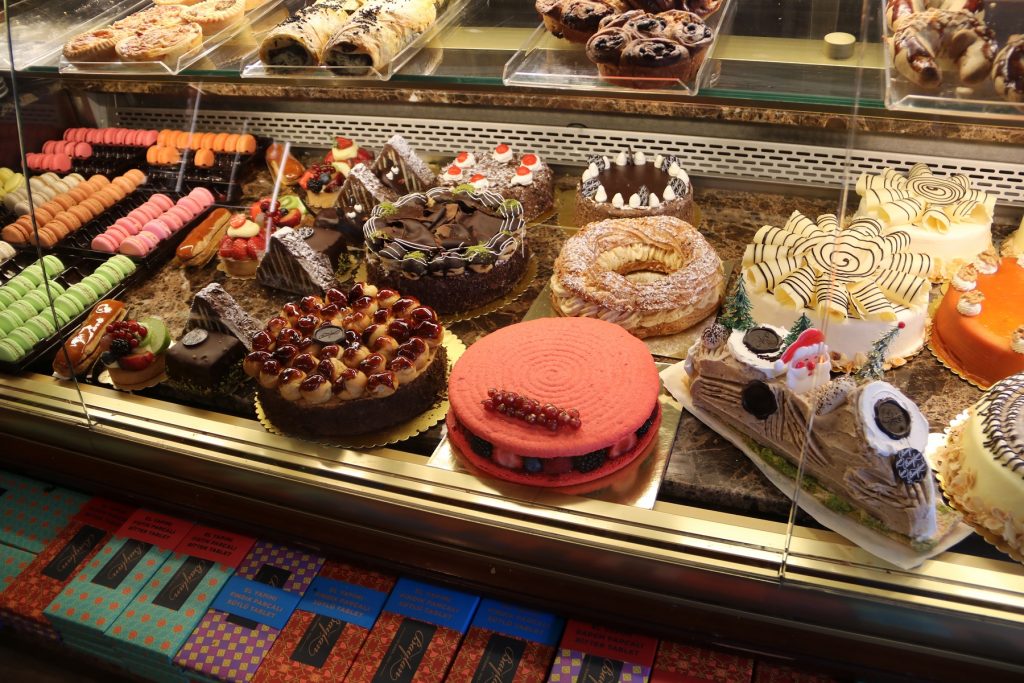 The quality of the products is everything for them and to achieve that quality, according to Chef Tim Briggs, is very difficult and it takes time. "You always have to taste, control, look. Sometimes I eat 6 or 7 desserts in one day. For example this morning I went to Eminönü to the markets, I went to check another place for the vegetables, and after that I went to a little local farm in Kemerburgaz for milk and butter. I am always moving, controlling, tasting. If we can't find good strawberries for the mille feuille then we will keep on searching until we find good ones. Because it is so important for us to have good quality. That is the answer to everything. You can be the best chef in the world but if your strawberries are not good then there is nothing you can do. I think a restaurant is all about the chef and the products he or she uses. You always have to control the staff too. There are 56 people working with us at the moment." In Baylan, there are over 470 different items and they work long hours to assure quality in all of them.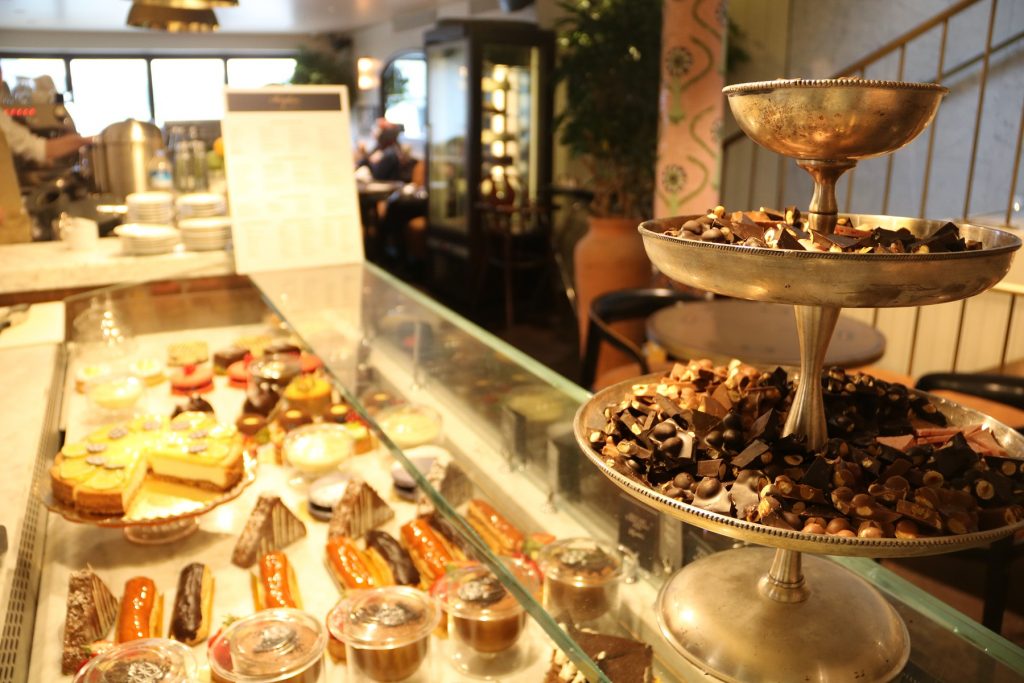 Chef Tim Briggs says that he has had lots of memories during 6 years. The late famous journalist Mehmet Ali Birand used to come to Baylan very often, he says that this was like his second home. He also remembers sitting with Harry Lenas in the front shop and having coffee with him, talking about Baylan and pastry making. "It was also very special. Because he has a lot of background, ideas and memories" he says.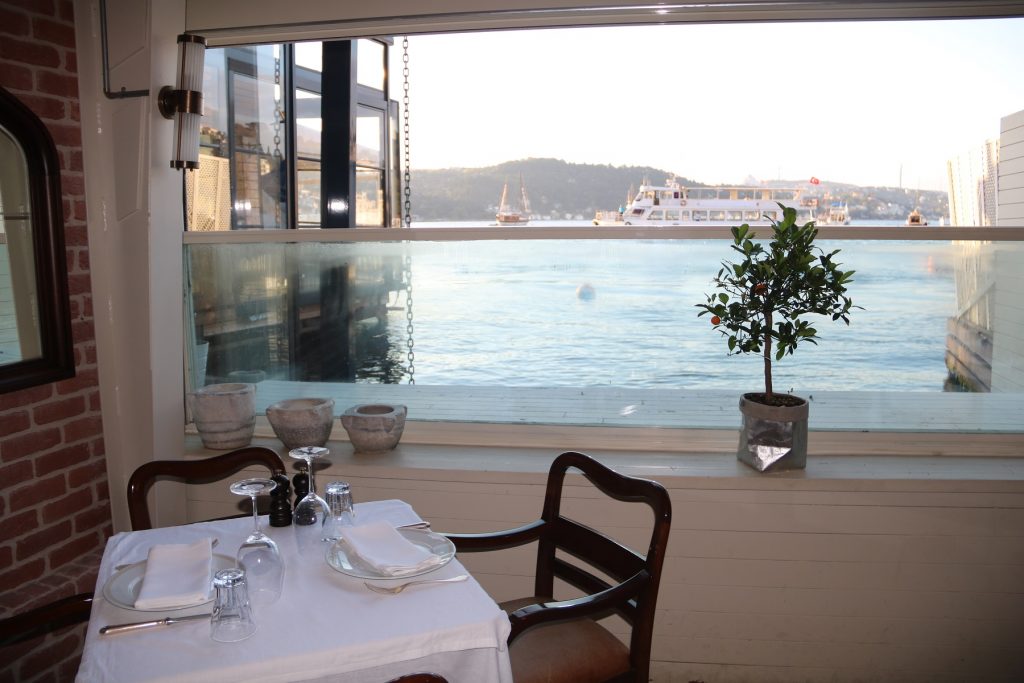 He mentions that they are trying to introduce new tastes to their guests and encourage them to try new things. "It takes time, but slowly slowly people understand what we are doing. For example bonfilet, in France we eat like rare, here most people want well done. Instead of having well done, if we have it medium well maybe it is a better kind of taste. That is what I like doing. I always use to say, OK I will do it my way first, try it, if you don't like then we can change it. And some people actually liked it."
Chef Tim Briggs mentions that one of their specialties "Dana Yanak" (Veal Cheek) has become so popular lately. "This one is cooking for 48 hours very very slowly, which gives lots of taste inside, but it is a very soft kind of meat. We serve it in lots of sauce and aubergine beğendi. It is an amazing kind of meat. Four years ago you could not find anywhere dana yanak and now everywhere is serving it. Everybody's talking about Baylan's dana yanak. If you want to be good, if you want to succeed, you have to be different. Why do people come to Baylan and not somewhere else? Because people expect something different from here. High quality, nice food and nice ambiance. These are the most important things for us."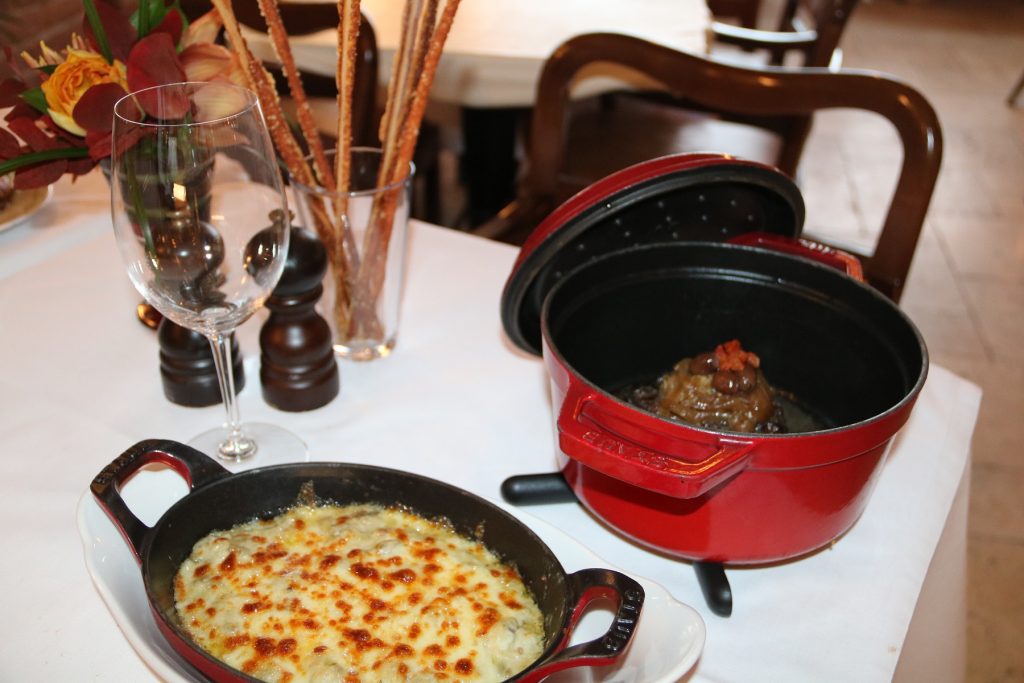 He says that seabass and salad with octopus and avocado are also very popular. They also have a special menu with duck. He says that he likes to cook new dishes. In September they started a Chef's Menu and it will change every season.
Which French tastes does he recommend from the menu? "First onion soup, then another very typical French taste, steak tartare, and finally as dessert chocolate éclair or chocolate mousse." He says that Turkish people in general are hesitant towards steak tartare but he recommends everyone to try.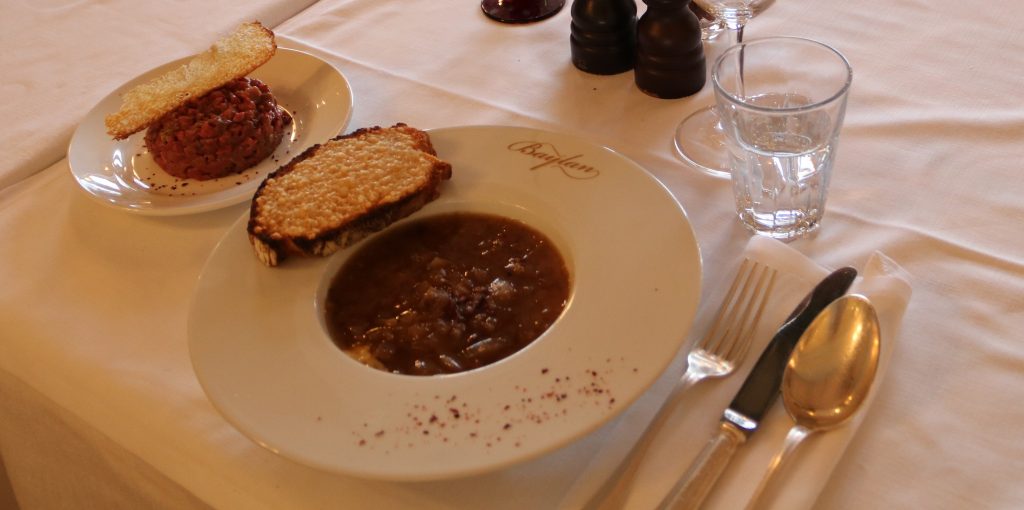 According to him, macarons, chocolates, mille feuille, Kup Griye, dana yanak and steak tartare are among the most incredible tastes of Baylan. "These are all things that you cannot find anywhere else in Istanbul. We have lots of special kinds of tastes that are unique to us." He also suggests the chocolate filled with pistachio.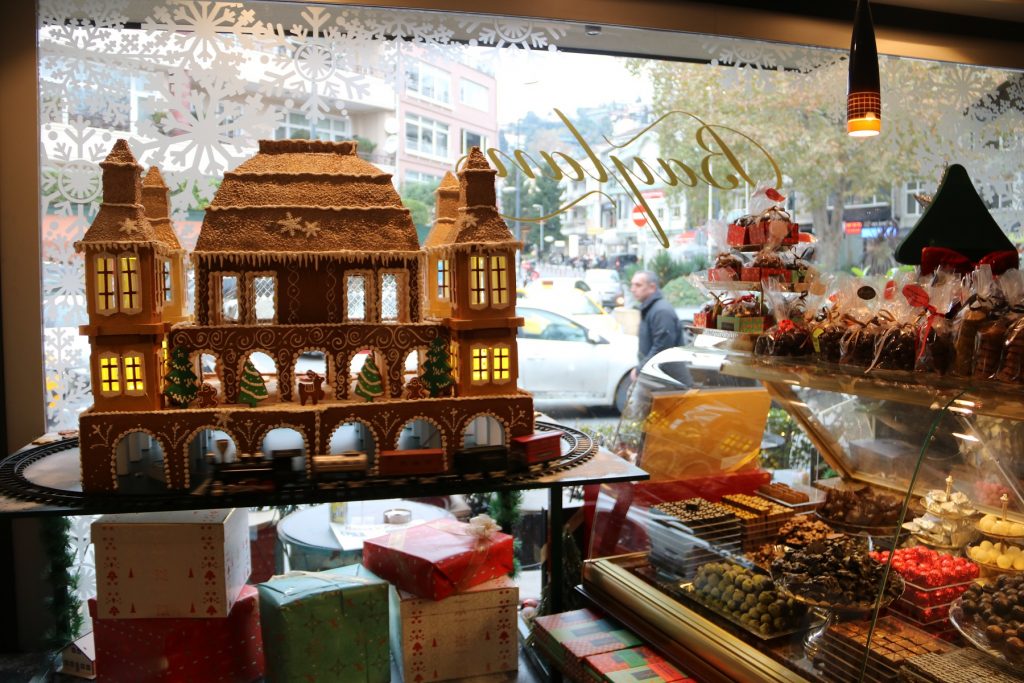 Chef Tim Briggs's dream about Baylan is "to continue working in the search of perfection." "When people come to Baylan they should always leave with a unique kind of experience. So the dream is to continue as it is, to keep things small but in a very high quality level. And my dream as a chef is always to make everybody happy. In Baylan there are so many things happening, there are chocolates, macarons, bread, restaurant, breakfast, lunch, dinner partys, everything… There are lots of things to organize and achieve and that is the dream you know. There is nowhere that is good enough, so you have to check, taste, create and never anything is perfect. So you have to just think and try to reach the perfect stage." His life philosophy is: "Always aim for perfection."